Custom Happy Birthday Yard Signs
That Bring Joy to Your Friends & Family!
Custom yard signs provided by our New Jersey team will make your special event as special as can be with custom yard signs, letters, and other installations. We'll work with you to come up with the right design to help your event stand out.
Give our yard sign professionals a call today to get started with your custom design. We can do last minute orders if we're not sold out.  For popular sign flair and graduation signs it is best to book in advance. 
All pricing is based on location and size. We ask that you call or email to let us know what you're looking for so we can quote you directly. This is because we have several locations and can't make a one price fit all. This helps us ensure better pricing for local towns. When calling or messaging please provide the date of the sign, the town it is located in and any specific signs you know you wanted. We are more than happy to discuss by phone all our flair options as we have plenty. By letting us know any hobbies or interests the person has we can help narrow that down.
Ask about our record special. If you break our record we'll give you the sign for free. Tie it for $25 off. $10 off for all 100th Birthdays.
Give us a call today if you're looking to get any of these signs: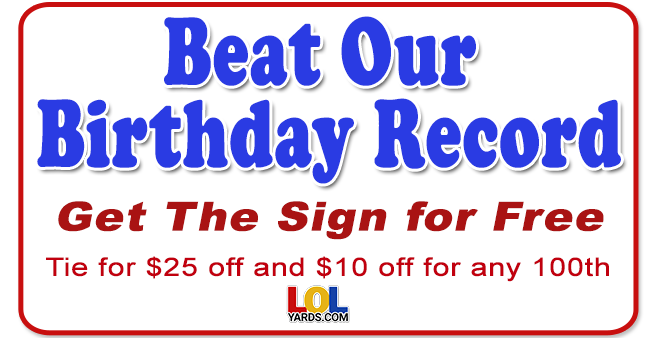 Graduation Signs are Booking Now!